Matt Hurwitz named JSPA's first National Program Assistant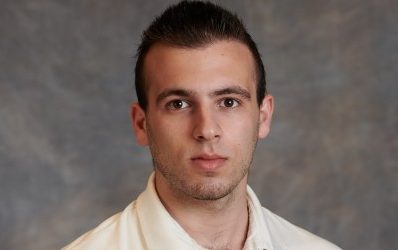 JSPA is pleased to introduce Matt Hurwitz as its first-ever National Program Assistant. Matt will support the Executive Director in maintaining operations, expanding membership and outreach, coordinating JSPA conferences, and discovering and publishing the top Jewish high school journalists.
His appointment is another step in JSPA's new capacity-building initiative, supported by a Judaism & Democracy "A More Perfect Union" grant from the Lippman Kanfer Foundation for Living Torah.
A recent graduate of UCLA with a B.A. in Sociology, Matt served as the Head Manager and Video Assistant for the university's Men's Basketball Program from 2018 until Covid paused intercollegiate sports in 2020. 
Matt brings both leadership and Jewish journalism experience to JSPA.  In journalism, he covered the Israeli delegation to the 2015 Special Olympics as a contributing writer for The Jewish Journal of Greater Los Angeles. Earlier, he served in several editorial positions at the national award-winning Shalhevet Boiling Point, including Sports Editor, Torah Editor and Summer Editor-in-Chief.  In the latter capacity, he led the staff's coverage of the 2014 Gaza War, which won second prize for Enterprise and Investigative Reporting in the American Jewish Press Association's 2014 Simon J. Rockower Awards,  honoring the best work in professional Jewish media in English around the world.
A year earlier, Matt won First Prize in Reporting on the Jewish Religion in JSPA's inaugural Jewish Scholastic Journalism Awards, for a story exploring the efficacy of Jewish prayer  ("Does prayer work? Yes — and maybe").  He also presented a workshop about reporting on Jewish law and culture at the inaugural JSPA Conference in 2013.
In addition to joining JSPA, Matt is an aspiring educator both in the classroom and on the basketball court. He is working towards obtaining an English teaching credential and is looking forward to coaching high school basketball when indoor sports resume play in California. 
Prior to working in NCAA Basketball, Matt was Assistant Athletic Director at Shalhevet High School 2016 – 18, helping run all aspects of the athletic department and serving as an assistant coach for the Boys Varsity Basketball team.
"I'm delighted to welcome Matt to our staff," said JSPA Executive Director Joelle Keene. "His energy and experience will be important assets as we work to build a nationwide network of high schools journalists learning top journalism skills with a Jewish ethical perspective in mind."