News coverage of JSPA conference appears in student publications and beyond
Student news outlets around the U.S. covered JSPA's 2019 conference and journalism contest, describing speakers, roundtable discussions and ethical dilemmas as well as their schools' winners of the 2019 Jewish Scholastic Journalism Awards.
The conference, held Jan. 30 – Feb. 1 in Los Angeles, was based at Beth Jacob Congregation in Beverly Hills and co-sponsored by Beth Jacob and Shalhevet High School.  Speakers included professional journalists, attorneys and community activists along with leading Jewish and journalism educators in print and electronic media and broadcasting.
"There were conversations about morality, honesty, and the tricky task of navigating the line between reporting and gossip," wrote Chloe Karpel in the Palette, the newsmagazine of Atlanta Jewish Academy. "There were sessions covering sportscasting, video and audio journalism, dealing with backlash, and reporting and writing about your community."
But informal learning was especially valuable, she wrote.
"AJA students brought copies of the Palette and compared layout, style guides, and article topics with the other schools in attendance…," the Palette story continues. "Palette writers and editors got to meet and talk with writers and editors from the Shalhevet Boiling Point, the Milken Roar, and the Ramaz Rampage to gain new friends and new ideas."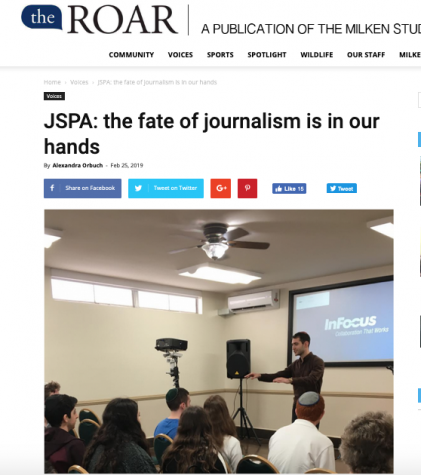 In the Rampage, the student news source of Ramaz Upper School in New York City, Josephine Schizer described the reactions of fellow Ramaz students and the group's adviser to the three-day event.
"I was so impressed by the talented, enthusiastic and dedicated writers in my peer group nationwide," said Ramaz student Samantha Sinensky in the story."This exposure was both intimidating and exhilarating. It definitely made me want to become a better writer."
Rampage staffer Rebecca Massel said she appreciated the chance to learn from her contemporaries.
"I also learned about the ethical issues surrounding publishing in papers, including the issues of copyright and considering the positive outcome of an article," Rebecca said in the article.

Her classmate Zach Buller appreciated the talk given by Ms. Julie Fax, formerly of the Jewish Journal of Los Angeles, who gave a workshop called "Covering Your Own Community."
"I learned about the dangers of covering controversial stories in one's own community," said Zach in the Rampage's story, "and having to face readers that might believe that the article should not have been published at all as it defamed the institution."
Writers Alexandra Orbuch and Emily Vanek of the Milken Community High School in Los Angeles wrote that the conference had opened their eyes to journalism's human and religious responsibilities.
"News is not just about writing because you want to; its because you have to," Orbuch and Vanek wrote in an Opinion article in the Roar. "Without freedom of the press, atrocities would go unnoticed, citizens would remain ignorant, and America would cease to be the free nation that we all champion."
The pair were particularly influenced by a conference talk given by Susan Freudenheim, Executive Director of Jewish World Watch and former Executive Editor of the Jewish Journal.
"
News is not just about writing because you want to; its because you have to.Without freedom of the press, atrocities would go unnoticed, citizens would remain ignorant, and America would cease to be the free nation that we all champion.""
— Alexandra Orbuch and Emily Vanek, The Milken Roar
"One morning, Freudenheim told us, she came across the shocking article that we had caught a glimpse of when we walked into the session earlier," they wrote. "She had never heard about the crisis in Rohingya before reading that The New York Times piece. It reminded her of the principle job of journalism: to act like a flashlight to the rest of the world, 'using its light to the best possible effect.'"
Results of JSPA's annual Jewish Scholastic Journalism contests have also been publicized in those papers, as well as in the Boiling Point at Shalhevet High School and at least one professional publication, Kol HaBirah of Washington, D.C. Kol HaBirah described winning entries from the Charles E. Smith Jewish Day School of Rockville, Md.
Topics at the 2019 conference ranged from Torah in the newsroom to sports broadcasting and from copyright and free press law to how to cover Israel in high school and college news media.
Keynote speaker was Andrew Silow-Carroll, editor-in-chief of the Jewish Telegraphic Agency, who spoke Friday night about principles of good journalism and how to build a career.
Rabbi Abraham Lieberman of Shalhevet High School had opened the conference with a talk about journalism through the eyes of the Torah.  Renowned copyright attorney David Nimmer gave a workshop called "How To Get Away With Journalism," about copyright and other intellectual property issues.
East Los Angeles historian and community organizer Shmuel Gonzalez described how relations between Jews and Latinos have been affected by gentrification and landlord-tenant issues, while Zev Hurwitz of the American Jewish Committee taught how to cover Israel and Jewish-related issues in high school and college media.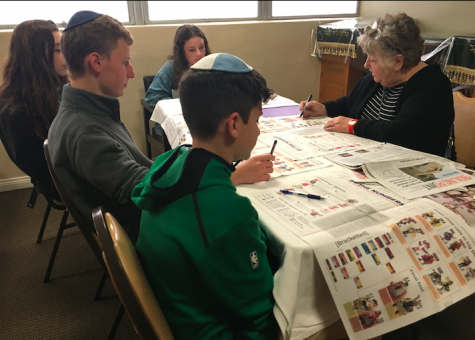 Former Harvard-Westlake Chronicle adviser Kathleen Neumeyer gave workshops in layout and photography, while Michael Hernandez, who leads the award-winning Mustang Morning News of Redondo Beach High School, gave four workshops on video and podcast journalism, including one on live-broadcasting sports events.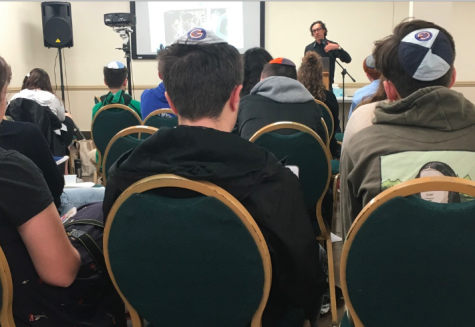 Also on the program were editors of the Boiling Point at Shalhevet. Gilad Spitzer described how to start and develop a website, while Clara Sandler and Lucy Fried talked about applying Torah values in the newsroom.
That seemed to resonate with the writers at Milken.
"Beyond abandoning core American values, the fall of journalism would also discard the heart of Judaism. 'Neither shalt thou stand idly by the blood of thy neighbor,'" wrote conference attendees in the Roar.
"These words, found in Vayikra, Chapter 19, comprise the motto of JSPA. If we were to neglect our obligation to report the injustices of society, we would be dismissing the word of God."
JSPA president Joelle Keene, who organized the conference and who is the adviser of the Boiling Point, gave workshops on how to localize world and national news and how to develop a Torah section, focusing on how Jewish law and traditions influence students' daily lives.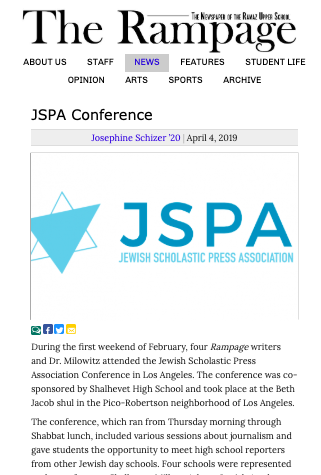 Dr. Steven Milowitz, adviser to the Ramaz Rampage, said the conference had been a great opportunity for his students.
"They were able to get an opportunity to discuss various journalistic issues, both practical and philosophical," said Dr Milowitz in the Rampage article. "I think the conference offered a great many applicable ideas that we can use going forward in order to make the Rampage more topical, more relevant, and more interesting. Beyond that, I think the kids had a great time simply meeting other high school journalists, listening to experts in the field, and being in warm weather and getting a chance to explore California a little."
For links to all news coverage of the JSPA's annual conferences, click here.