Hannah Jannol wins 2018 Grand Prize in Jewish Scholastic Journalism
Hannah Jannol, Editor-in-Chief of The Boiling Point at Shalhevet High School in Los Angeles, has won the fifth annual Grand Prize in Jewish Scholastic Journalism, awarded Feb. 2 by the Jewish Scholastic Press Association at its annual conference and Shabbaton in Los Angeles.
The contest awarded prizes in nine categories, and JSPA conference keynote speaker Ari Goldman choose the grand prize from among the winning entries.  Hannah's feature story, titled "When You're the Child of a Rabbi, Who Are You?" had won in the category of Feature Reporting on Judaism or Jewish Religion.
It was selected by Ari Goldman, professor at Columbia University's Graduate School of Journalism in New York, who was the keynote speaker at JSPA's fifth annual conference and Shabbaton held at Beth Jacob Congregation in Beverly Hills Feb. 1 – 3.  Mr. Goldman announced the award at the beginning of his address.
The categories were judged by JSPA board secretary Kathleen Neumeyer, retired adviser of the award-winning Harvard-Westlake Chronicle in Los Angeles, and certificates were presented by JSPA founding director Joelle Keene.
The winning story is about three Shalhevet students, a teacher and a former student whose fathers are rabbis, and how the expectations of their father's communities affect their lives as teenagers and their developing identities. For example:
"'If the preacher's kid isn't behaving in the way people would expect, there's a little more of people whispering about that,' said Judaic Studies teacher Rabbi Ari Schwarzberg, whose father Rabbi Ronald Schwarzberg was the leader of the shul where he grew up. 'People are a little more surprised about that. And it's not that they're judging the rabbi or the family differently, but it's more of a topic of discussion than if someone else is not going to shul, or not wearing a yarmulke.'"
As Grand Prize winner, Hannah will receive a recommendation for an internship at the local Jewish newspaper in her area, under the auspices of the American Jewish Press Association, JSPA's co-sponsor.
Hannah also won another first place award, in the category of First Person Experience Regarding Judaism or Israel, for her story titled "Taming Our Roots: As high schoolers flock to keratin, is beauty still being defined as non-Jewish?" The article explores the meaning and implications of a popular hair-straightening method.
Once I turned 13, my hair mushroomed out like the top of a nuclear bomb. It was not ordinarily curly – it was a Jewfro. My mother's hair is the same, and so was her mother's, and so was her mother's. There has been a matrilineal line of thick, curly hair in my family, and yet, a stigma persists. In addition to the bump on my nose, my frizzy hair supplemented my list of features that did not follow Eurocentric beauty standards that I always saw as more attractive, though I never quite knew why.
Ms. Neumeyer divided the category News or Feature Reporting on Interreligious/Intercultural Issues into separate categories for news and features.  Rebecca Weiss, Features Editor of The Lion's Tale of Charles E. Smith Jewish Day School in Rockville, Md., won them both.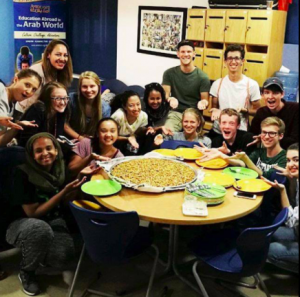 One  was for Rebecca's story titled Journey to Jordan: Arabic student embarks on cultural exploration in the Middle East, about CESJDS student Ari Gershengorn, who spent the summer in Jordan studying Arabic with students from around the world.
"Don't stand out," Gershengorn recalled his instructor telling the students during the safety briefing at orientation. Although Gershengorn didn't feel afraid to tell people he was American he found it was easier to avoid the topic as people would immediately ask about Trump.
The other was for From Poland with Poems, about a CESJDS student who lived in Poland for six months while her mother did research there.
Rebecca told the story of CESJDS junior Selah Bickel, then a sophomore, who attended the American School of Warsaw and was surprised by its lack of diversity.
While on one of their outings, Bickel met a 19-year-old Polish girl who had found out she was Jewish only two years earlier. The girl was brimming with enthusiasm about her newfound identity.
"It was so cute because, for me, it's never been like 'oh my God, it's so cool [to be Jewish],'" Bickel said.  
The Lion's Tale also won the most prizes overall.  In addition to the two intercultural categories, it took first place in Ongoing Reporting on Religious, Israel or Interreligious/Intercultural Issues; in News; and in Layout of any Jewish- or Israel-related story.
Isaac Silber and Rina Torchinsky, The Lion's Tale managing editor and editor-in-chief, respectively, won in news for their report titled Even in face of tragedy, chain remains unbroken, about the aftermath of a student's sudden death in May 2017.  The story described how the school remembered the student partly through Jewish mourning rituals though it concluded with a school counselor's observation that "Grief never goes away," Cannon said. "You learn to live with it. You absorb it being part of you, and it shapes you."
And Aliza Bard and Aliza Rabinovitz of CESJDS won first prize in the layout category for "Under One Roof," illustrating a story about religious pluralism.
The Boiling Point came in second with four prizes — three first and one second, in addition to the Grand Prize. And The Roar of Milken Community High School in Los Angeles came in third with three — two first and one second prize. This year was the first time second-place prizes had been awarded.
The Boiling Point's other winners were in the video category, where Talia Abel and Jordana Glouberman won first prize for their 4.5-minute report on a trip of the school's 11th grade to Houston to help in clean-up efforts after Hurricane Harvey; and photojournalism, where Katia Surpin took second place for her photo of a student wearing a protective mask while helping dismantle a flood-damaged home.
Alexandra Orbuch of the Roar won first prize in the current events category for Milken Torah Comes Home,  about preserving the school's Torah scroll when the campus was threatened by the Skirball fire last December.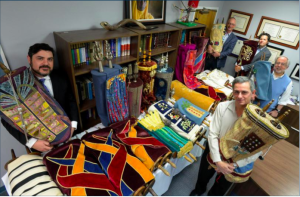 That day, a gratitude town meeting took place, during which the Milken Torah was rededicated. Rabbi Gordon Bernat-Kunin entered the gymnasium, carrying the Torah, while the entire school sang Oseh Shalom together. According to Rabbi David Saiger, "We chose that particular prayer because shalom, in addition to meaning peace, means "whole" or "complete." The return of students and the return of Torah completes our community, makes it whole, so we thanked God for allowing us to become shalem, whole, again."
The Roar also took First Place in photojournalism, for a photo by Jordan Pardo that accompanied a story on redefining Zionism, and second place in Ongoing Reporting for its coverage of Milken's dropping of its Hebrew language requirement this year by Roar Editor-in-Chief Mira Berenbaum and staff writer Jared Hasen-Klein.
A list of all the winners, including both winning photographs, can be found here. 
Founded in 2013, the Jewish Scholastic Press Association (JSPA) is a national journalism education organization that works to improve student media at Jewish high schools, enhance journalism education in those schools, and teach students and advisers how they can add Jewish content and sensibility to their publications.  It is co-sponsored by the American Jewish Press Association and Shalhevet High School.
It holds an annual conference where students learn from distinguished journalists, educators, attorneys, rabbis and public figures.  More information on JSPA can be found here and here.  For questions, please contact Joelle Keene at 323 930-9333.
Leave a Comment