Miriam Minsk of Charles E. Smith Jewish Day School wins 2017 Grand Prize in Jewish Scholastic Journalism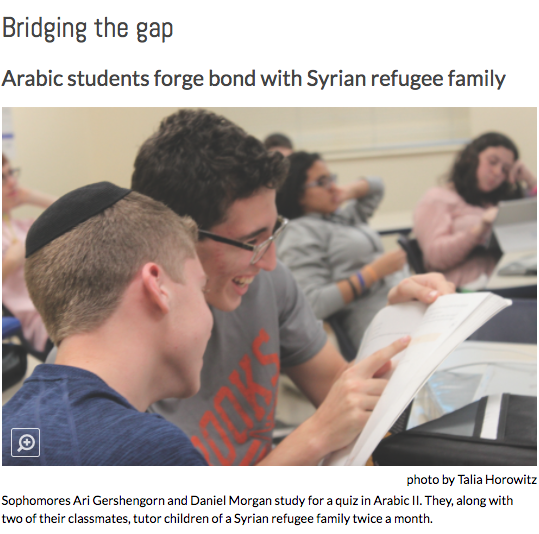 Miriam Minsk, Co-Editor-in-Chief of The Lion's Tale at Charles E. Smith Jewish Day School in Rockville, Md., has won the fourth annual Grand Prize in Jewish Scholastic Journalism awarded by the Jewish Scholastic Press Association, the organization announced today.
The contest has category winners in eight divisions, and JSPA officers choose a grand prize winner from among the eight.  Miriam's two-page spread titled "Bridging the Gap: Arabic students forge bond with Syrian refugee family" won in two categories: News or Feature Reporting on Interreligious or Intercultural events, and Layout and Design.
The story is about CESJDS students practicing their Arabic while helping a newly arrived family of six — two parents and four children — to learn English. The family fled the city of Daraa, Syria, due to mounting violence there.
Miriam quoted CESJDS sophomore Daniel Morgan describing helping one of the girls with her math.
"I'll try to explain prime factorization to her in mostly Arabic, but I try to include some English so that she starts learning," Morgan said. "I try to use very simple words like 'small' and 'big,' and I know the words for numbers [in Arabic.]"
The contest was judged by JSPA board member Kathleen Neumeyer, retired adviser of the award-winning Harvard-Westlake Chronicle in Los Angeles. Ms. Neumeyer praised Miriam's story for "good reporting, nice use of quotes, several sources and good background."
As Grand Prize winner, Miriam will receive a recommendation for an internship at the local Jewish newspaper in her area, under the auspices of the American Jewish Press Association, JSPA's co-sponsor.
Joelle Keene, JSPA's Founding Director, said there were more than three times as many entries this year as last, and that this was the first year prizes were awarded in all categories offered.
"As the contest becomes more competitive, winning the Grand Prize is even more of a distinction," Mrs. Keene said. "I hope this will encourage school journalists and news outlets to take Jewish topics seriously, and to delve into them with as much creativity and passion as they would any subject of  interest to teen readers."
Students from Shalhevet High School in Los Angeles won the most prizes, including category awards in three news categories as well as Non-First-Person Opinion and Video.  Alec Fields, co-editor-in-chief of The Boiling Point, won in the category News and Feature Reporting on Jewish Religion for his story titled "Kiddush Clubs: Old tradition is scrutinized in new way," about congregants stepping out of Shabbat services for some morning schnappes.
Boiling Point Outside News Editor Jacob Feitelberg won for News and Feature reporting on Current Events Involving Israel for his obituary for Israeli Prime Minister Shimon Peres, titled "School remembers Peres for heart, poetry, devotion to peace."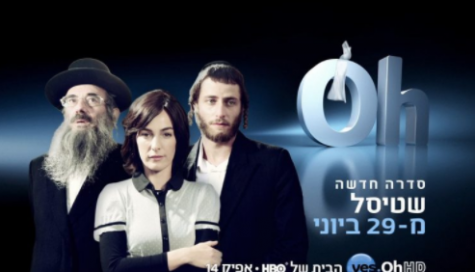 Lucy Fried, the Boiling Point's Arts and Culture editor, won for non-first-person opinion for her review of the Israeli television show Shtisel, titled "In Israeli Tv hit 'Shtisel' black-hatted world of Mea Shearim is full of individuals, some familiar."
And three Boiling Point editors — Rose Lipner, Nicole Soussana and Alec Fields — won in Ongoing Reporting on Religious, Israel or Interreligious / Cultural Issues. Ongoing reporting means at least two stories on two different days, covering a story that is evolving with additional facts known.
They won for ongoing coverage of a controversy at Shalhevet involving a female student being allowed to lead Shabbat kiddush on a school debate trip, which was followed by school administration saying it had been a mistake and should not have been allowed.
The later story, titled "Girl Leading Kiddush Was A Mistake, School Says," explained that while the school Talmud curriculum teaches sources saying it is permitted,  Jewish law, or halacha, is more complicated than that. Torah Editor Alec Fields quoted the principal, Dr. Noam Weissman.
"Halacha is the law expressed in different situations and circumstances," Reb Weissman said. "Halacha is not created in a vacuum. The community practice is part of the halachic system."
And Shalhevet's Leor Kaminski won in the video category for "Shalhevet's Repenters," featuring short interviews with students about what they were repenting for in the days leading up to Yom Kippur.
The First-Person Opinion category was won by Jordie Priesman of Walter Johnson High School in Bethesda, Md., writing in the magazine Fresh Ink for Teens.   Jordie's article, titled "Finding My New Jewish Home," was about shul-shopping in the middle of her bat mitzvah training after her family moved from California to Maryland when she was 12.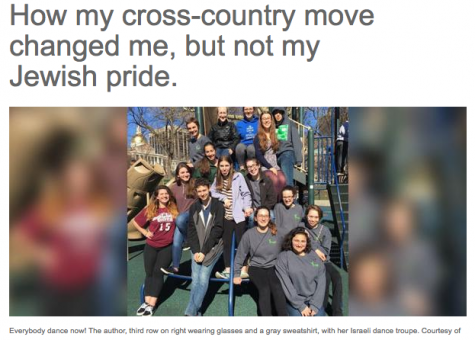 "Every Shabbat morning," Jordie wrote, "we would go to a different shul. We would discuss as a family the pros and cons of each (location, the rabbi and hazzan, the people, the color of the rugs, etc.). We would go back to a few that we thought were possibilities, and try those out again."

Shalva Gozland of the Manhattan High School for Girls won in the photojournalism category for a picture titled "The Light From Beyond," which was published last fall in Moadim Magazine (see page 18).  The picture can also be viewed here.
A list of all the winners can be found here. 
Founded in 2013, the Jewish Scholastic Press Association (JSPA) is a national journalism education organization that works to improve student media at Jewish high schools, enhance journalism education in those schools, and teach students and advisers how they can add Jewish content and sensibility to their publications.  It is co-sponsored by the American Jewish Press Association, Shalhevet High School, and the Jewish Journal of Greater Los Angeles.
It holds an annual conference where students learn from distinguished journalists, educators, attorneys, rabbis and public figures.  More information on JSPA can be found here and here.  For questions, please contact Joelle Keene at 323 930-9333.
Leave a Comment