Andrew Silow-Carroll, humor expert and Editor-in-Chief of JTA, will be keynote speaker at JSPA conference Jan. 31 – Feb. 2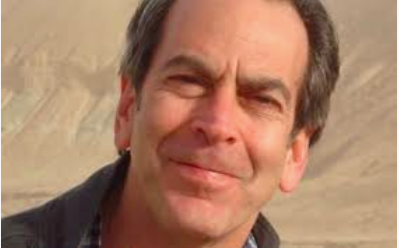 Andrew Silow-Carroll, editor-in-chief of the Jewish Telegraphic Agency and an expert on Jewish humor, will headline the 2019 Conference of the Jewish Scholastic Press Association, to be held Jan. 31 – Feb. 2 in Los Angeles.
Like the Associated Press or Reuters, JTA is a global news service with correspondents in Israel, Europe and around the world in addition to New York, Washington and elsewhere in the United States.  It provides breaking news and analysis as well as cultural, political, social and religious reporting on topics of Jewish interest or concern, serving as a syndication service for Jewish news sources worldwide.
Mr. Silow-Carroll was previously editor-in-chief and CEO of the New Jersey Jewish News, Managing Editor of the Forward, editor of the Washington Jewish Week, and senior editor of Moment Magazine.  He has written award-winning columns for the Times of Israel and is an alumnus of the Jerusalem Fellows.
He will speak Friday evening, Feb. 1, at Beth Jacob Congregation in Beverly Hills.
Mr. Silow-Carroll is also the author of an educational curriculum titled  From Sinai to Seinfeld: The History of Jewish Humor, and is featured in videos on jewishhumorcentral.com analyzing famous Jewish jokes, sometimes from a religious perspective.  When the comedian Larry David joked controversially on Saturday Night Live about whether he would have flirted with women at Auschwitz, Mr. Silow-Caroll wrote an analysis for JTA that appeared in Jewish newspapers around the world.
The joke was offensive without being particularly funny, he wrote.
"David lingers on the conceit and makes you picture the scene — the barracks, the other victim, the shaved heads." wrote Mr. Silow-Carroll.  "The comic idea collapses under the weight of the images he is drawing."
Mr. Silow-Carroll's JTA-syndicated column covers a range of news and cultural topics, recently including a eulogy for the Israeli author Amos Oz, who died Dec. 28.
"Amos Oz would often speak in the kind of tossed-off epigrams that come only with a lot of practice," Mr. Silow-Carroll wrote. "But just when you wanted to smack him for his breezy erudition, he would redeem himself with a flash of spot-on — and hilarious — self-awareness."
JTA is based in New York and was founded in 1917.  On a recent afternoon its website featured headlines including "The 50 Jews Everyone Should Follow on Twitter," "New law excuses Brazilian Jewish students from exams, classes on Shabbat and holidays," and "In repressive Myanmar, a tiny Jewish minority hangs on to the past," along with stories about Israeli businesses, anti-semitism and the first-ever transgender president of a U.S. Jewish sorority. In addition to news, opinion, profiles and features, it offers video viewable on its YouTube channel and Facebook page.
JSPA is a national journalism education organization that teaches students top-level skills while looking at journalism through a Jewish lens.  Its goals are to improve student media at Jewish high schools, enhance journalism education in those schools, and teach students and advisers how they can add Jewish content and sensibility to their publications, and also to convey a Jewish outlook on journalism to students in any school.
It promotes these goals in a way that respects Jewish values and the Jewish calendar, in particular using Shabbat to create a journalistic cohort that can consider news gathering in a Jewish way.  Its motto, found in Leviticus Chapter 19, verse 16, is You shall not go up and down as a talebearer among your people, neither shall you stand idly by the blood of your neighbor; I am the Lord.   Applying this in journalism means using both courage and restraint, knowing when to use which, and being able to channel curiosity into purpose.
Co-sponsors of the conference are the American Jewish Press Association and Shalhevet High School. For more information, please contact Joelle Keene at [email protected]
To register for the conference, please click here.